Health inequalities start young
Health inequalities can affect both unborn babies and very young children, if they are exposed to environmental, social and behavioural factors potentially hazardous to health. Examples include parental smoking, which increases the risk of a premature birth and low birthweight; poor diet (including low breast-feeding rates); and limited opportunities for exercise and early cognitive development. The economic, material and psychosocial conditions in which children grow up are a significant factor in reinforcing health inequalities.
Childhood obesity is more prevalent in deprived areas and is both a result of health inequalities (with an unhealthy diet and lack of exercise major factors) and a cause of future health inequalities, as obese children tend to grow up to become obese adults, with all the additional health risks this entails – seen most recently in higher risk of death from Covid-19. The prevalence of overweight and obesity has increased worldwide during the last 30 years. So, tackling childhood obesity is likely to be an important part of any strategy to reduce health inequalities.
Interventions aimed at mothers-to-be and recent mothers are potentially important, as they control their children's food environment and many of their experiences from the womb into the early years. This article therefore focuses on examples of early years intervention programmes that aim to tackle health inequalities both in the UK and across Europe.
The Henry programme (Leeds)
The Healthy Weight Strategy, implemented in Leeds since 2009 as part of the HENRY programme, aimed to train professionals to support families in ensuring 'a healthy start in life' by delivering programmes for families in community settings. A study by Oxford University in 2019 concluded there was a 'significant and sustained year-on-year decrease in obesity rates at Reception'. Furthermore, the greatest decline (of 9%) was seen in children from the most deprived areas, which the HENRY programme targeted. As the graph below indicates childhood obesity prevalence rates in Leeds fell below the national average.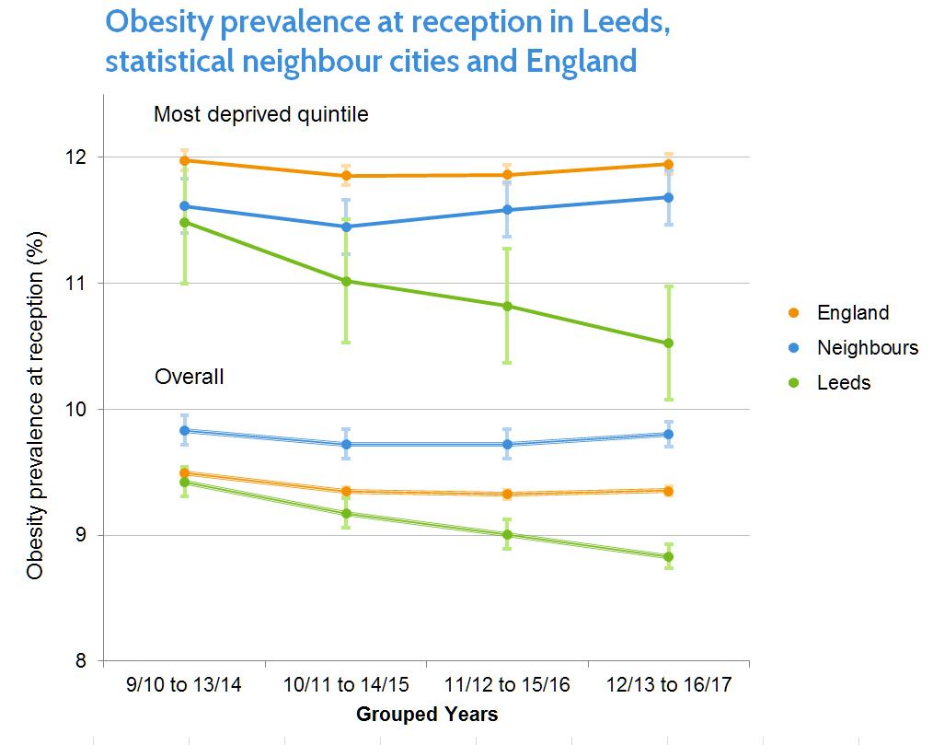 Leeds has now officially implemented the HENRY programme as part of its healthy weight policy and strategy in local primary schools within the city.
Maternity Transformation Programme (England)
Another example of health inequalities is that lower socio-economic status is significantly associated with increased risk of multiple adverse pregnancy outcomes. That's why the Maternity Transformation Programme, led by Public Health England and pioneered by local Clinical Commissioning Groups (CCGs), includes establishing better quality maternity services in England by involving key stakeholders in the process, including NHS England, charities, academics and other professional bodies). It is a key element in the government strategy to 'halve the number of stillbirths, neonatal and maternal deaths and brain injuries by 2030'. Other specific aims include preventing poor health outcomes by improving women's health before, during and after pregnancy and improving women's access to perinatal mental health services, to improve the overall mental and physical well-being of expectant mothers.
The National Maternity Review, commissioned by NHS England and published in 2016, found NHS England had reached its target of reducing the number of stillbirths by a fifth ahead of schedule while also ensuring measures to help lower the maternal and neonatal mortality rates.
EPODE programme (France)
'Ensemble Prévenons l'Obésité Des Enfants' (EPODE) is a large-scale initiative implemented in France since 2003, which explores sustainable, long-term strategies for local communities to reduce childhood obesity rates. Online marketing tools, coordination teams and health coaches are just some of the tools used to gather local stakeholders, both from the private and public sector, into local steering groups, with its community focus seen as an important factor in its success. EPODE has helped reduce childhood obesity levels and been identified as having the potential to reduce health inequalities more generally. Its success has led to its adoption in other countries.

Healthy Child Programme (UK-wide initiative)
The Healthy Child Programme, delivered and run by local GPs and healthcare professionals and Sure Start Children centres and commissioned by the Department of Health in late 2009, aims to provide universal preventative measures and services for the early life stages. By providing comprehensive advice around mental and physical wellbeing and running a series of screening and immunisation programmes at each stage of the child's life, it differs from earlier initiatives by providing a 'greater focus on antenatal care' and identifying families who are at high-risk. Some of the programme's sub-objectives include encouraging mothers to breastfeed and parents to develop better relationships with their children as well as identifying issues early on in a child's life, such as poor language development. It also runs a series of health promotion initiatives aimed directly at parents, to include smoking, alcohol and drugs campaigns.
Not all risks are preventable through maternity and health visiting services, including postnatal depression. Further interventions are needed in order to help diagnose and treat mothers who are at risk. The Early Interventions Foundation has found good evidence of a number of interventions working, for example:
The Family Foundations programme reduces parental stress and child attachment-related behaviours when offered to couples expecting their first child.
Universal screening for mental health problems during pregnancy is associated with reduced symptoms of depression and anxiety in expectant mothers.
Individual breastfeeding advice, provided to mothers over the phone and in person in the weeks before and after childbirth has the best evidence of increasing breastfeeding initiation and duration rates
There is good evidence that intensive home visiting interventions support children's language development in the early years.
JOGG initiative (Netherlands)
The JOGG initiative adapts aspects from the successful EPODE programme. It aims to 'reverse the increasing trend' of overweight or obese children and young people, up to the age of 19. Some of its sub-aims include reducing the intake of sugary drinks amongst young people and promoting healthy food in all public settings by engaging with stakeholders from various sectors and on every level, with activities planned by a JOGG-coordinator in every city. The JOGG approach builds on five fundamental aspects:
Local political commitment
Cooperation between the private and public sector (public-private partnerships)
Social marketing
Monitoring and evaluation
Linking prevention and healthcare
Research into the prevalence of overweight among Dutch primary school children living in JOGG and non-JOGG areas has found that the JOGG approach had been 'successful in targeting areas where obesity was most prevalent'. Research suggests that EPODE-style interventions, like JOGG, may not reduce obesity levels overall. However, their sustained use in deprived areas does appear to reduce levels of childhood obesity among children there– and it is deprived areas where action is most needed to reduce health inequalities.
Healthy Weight Communities (Scotland)
Scotland is one of the few countries to see a reduction in childhood obesity in recent years, at least for boys, whose obesity levels fell from 20% in 2012 to 12% in 2017, although rates have since risen again.
Healthy Weight Communities pathfinder programmes were launched in eight local areas in 2009, adopting the EPODE approach, with a focus on towns/communities, emphasis on local leadership and community engagement, a strong element of social marketing and a partnership approach drawing together all services which can contribute to influence healthy weight. Further initiatives included the Route Map for Preventing Overweight and Obesity, launched in 2010 and the 2018 Healthier Future Plan.

Conclusions
Significant health inequalities are already clear in the early years, due to the economic, environmental and psychosocial conditions children often grow up in, in deprived areas.
Interventions aimed at mothers-to-be and recent mothers are potentially important, as they control so much of their children's environment and experiences from the womb into the early years.
The Healthy Child Programme therefore aims to provide universal preventative measures and services for the early life stages, with research now identifying which approaches appear most effective.
Childhood obesity is an example of a health inequality, as it is most prevalent in deprived areas and can lead to adult obesity, with all the associated health risks.
Action to reduce childhood obesity can help reduce health inequalities more generally e.g. community-based interventions to encourage healthy diets and physical activity have a range of longer term health benefits.
The HENRY Programme in Leeds, EPODE in France and JOGG in the Netherlands are three examples of programmes that have reduced childhood obesity and potentially health inequalities
Reducing smoking levels and alcohol consumption during pregnancy and providing good quality maternity services are also important for reducing early years health inequalities.
Governments and other relevant stakeholders need to take a holistic approach, which considers all forms of preventative care.
Sara Meriouma, August 2021